Start using your Asking Style today!
Get the Go-Getter Recorded Training
In less than an hour, start using your Asking Style to your advantage with potential donors. Asking Styles creator Brian Saber will take you through the entire process from choosing the right prospects to following up after an ask in this exclusive web-training session for only $39.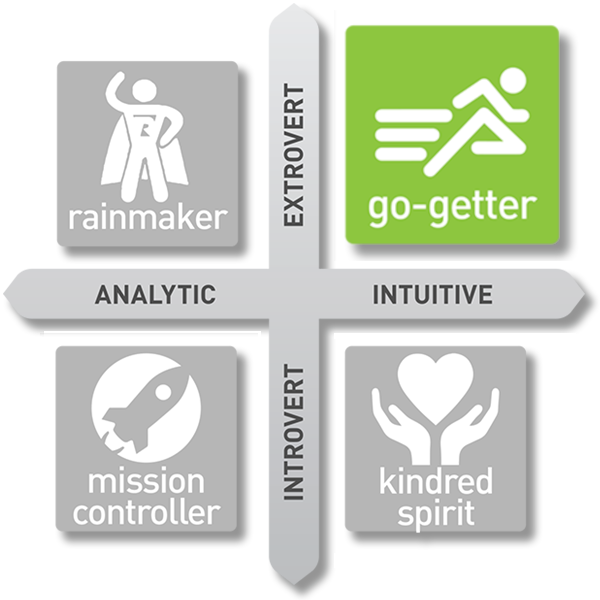 Learn how to harness your fundraising superpower.
Dig in deep as Brian explores your Go-Getter Asking Style. Understand how your Secondary Asking Style – Rainmaker or Kindred Spirit – influences how you might ask most comfortably and effectively. Get in-depth insight and training with a video training, worksheet, and bonus materials.
How organizations are using the trainings:
"I have been looking for fundraising training resources to use with my board for a while. I was delighted to learn from a colleague about the Asking Styles quiz and materials. I participated in a webinar with Brian, which provided many valuable tips for how to more successfully engage board members in our museum's fundraising efforts. I then purchased each of the four Style trainings and asked board members to take the online quiz in preparation for a recent meeting.

Much to my surprise everyone took the quiz ahead of time and enthusiastically shared their Asking Styles with the group. I then facilitated an activity (and Brian graciously answered a few questions to help me!) in which board members broke into smaller groups and discussed how they could most effectively fundraise, using their individual Asking Style strengths, and also how they could partner with one another to participate in donor solicitations. The activity was a huge hit! Afterwards I followed up with each board member and sent them training resources pertinent to their Asking Style. I'm looking forward to continuing to use the Asking Styles resources to more successfully engage our board in the year ahead as fundraisers and ambassadors."
What our customers have to say
"Applying the Asking Styles has really helped us. We're at 85% of our staff-derived revenue goal with 4 months to go in the fiscal year; last year at this point, we weren't quite at 50%!"